6 Rekomendasi Film Buat Menambah Ilmu Para Agen Properti
- Film adalah salah satu kegiatan yang banyak mendatangkan inspirasi buat kita. Film dapat membuat kita menjadi emosional, ketakutan, bahagia dan memotivasi kita tergantung dengan film yang kita tonton. Tapi bagaimana jika kita seorang agent property? Adakah film yang dapat memotivasi ataupun menginspirasi seorang agent property?
Dibawah ini kami telah merangkum 6 rekomendasi film buat menambah ilmu para agent property, apa kamu sudah siap untuk terinspirasi?
6 Rekomendasi Film Buat Menambah Ilmu Para Agen Properti
apa yang tidak boleh dilakukan.Film ini bercerita tentang adanya pengumuman bahwa hanya dua penjual real estat teratas akan tetap di kantor pada akhir minggu dan yang kalah akan dipecat. Para agen pun bersemangat mengerjakan lead mereka sampai seseorang memutuskan untuk mencuri dan menjual lead ke pesaing. Namun film ini tidak mengajarkan tentang penjualan secara umum. Sepanjang film, karakter yang marah, lemah, berbohong dan berpikiran kecil di Glengarry Glen Ross menunjukkan dengan tepat bagaimana untuk "tidak" menjual rumah.
Memorable line dari film ini : "A-B-C. A – Always. B – Be. C – Closing. Always be closing."
2.American Beauty (1999)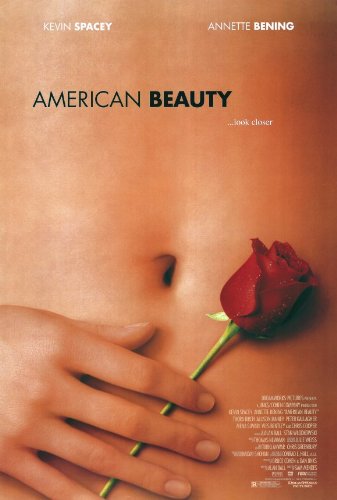 Lagi - lagi dibintangi oleh Kevin Spacey, film ini mungkin tidak menggambarkan agen real estat dalam penjelasan yang paling bagus, meskipun beberapa agen hebat mungkin dapat nyambung secara emosional dengan karakter Carolyn yang merupakan seorang agen real estat. Film ini menunjukkan bagaimana orang memandang rumah sebagai simbol status, dan agen real estat menjual bayang-bayang yang ideal kepada mereka; bukan hanya sebuah rumah.
Memorable line dari film ini : "I will sell this house today" . Mungkin terdengan sangat simpel namun jika kita mendalami maksud dari betapa bermaknanya kata - kata tersebut adalah meskipun karakter Carolyn bukan penggambaran yang menyenangkan dari agen real estat dan malah menunjukkan kenyataan sulit dari pekerjaan itu motivasi adalah kuncinya.
3. 99 Homes (2014)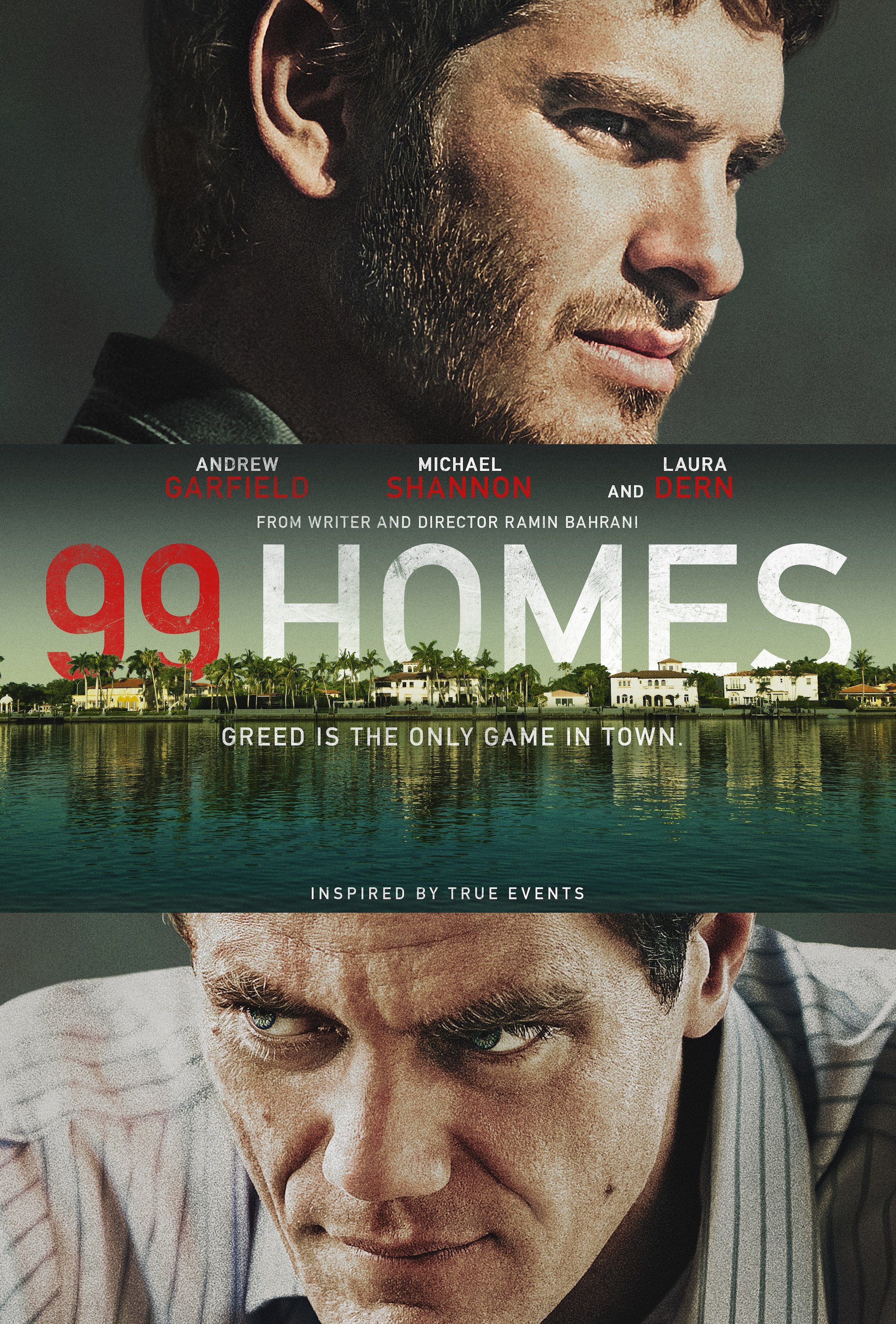 Dibintangi oleh Andrew Garfield dan Michael Shannon, film ini menggambarkan skenario yang tidak umum di dunia real estat: seseorang yang kehilangan rumahnya berusaha mendapatkannya kembali dengan bekerja untuk broker yang menyebabkannya kehilangan rumahnya. Tapi film ini dapat menggambarkan dengan jelas dalam mendramatisir perbedaan kekuatan yang ada di dunia ini. Agen real estat harus berurusan dengan kesenjangan kekayaan sebagai bagian dari tugas umum mereka ketika mereka harus bergantian antara bekerja dengan orang-orang kaya yang melihat rumah hanya dari segi aesthetic dan kecantikannya maupun melihat rumah sebagai investasi, dan bekerja dengan orang-orang tidak kaya yang hanya ingin bisa memiliki setidaknya rumah kecil untuk bisa hidup.
Memorable line dari film ini : "Don't get emotional about real estate."
Baca Juga :
Inspirasi Dekorasi Low Budget untuk Kamar Kost Minimalis
6 Peralatan Berkebun yang Wajib Kamu Miliki
Beberapa Inspirasi Design untuk Upgrade Kamar 2 x 3 Milikmu
4. Closing Escrow (2007)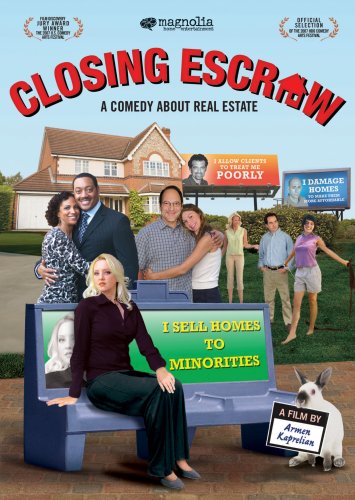 Closing Escrow merupakan film komedi tentang Real Estat yang berkisah tentang tiga pasangan yang kebetulan sedang mencari rumah impian mereka. Film yang dibintangi oleh Wendy Mclonden-Covey ini menggambarkan kompromi yang kadang-kadang sulit antara ekspektasi pembeli dan broker. Melalui kepribadian ekstrim dari karakternya, film ini menyingkap kenyataan yang terkadang sulit dari industri real estat. Klien yang ragu-ragu, pembeli yang tertekan di saat-saat terakhir, dan agen penjual yang beres semuanya tergabung dalam film ini dan akan menggelitik perut kita.
Memorable line dari film ini : "I'm a real estate agent. And with my money I do good things and good works, and I will go into the ghetto and I will start a music program."
5. The Big Short (2015)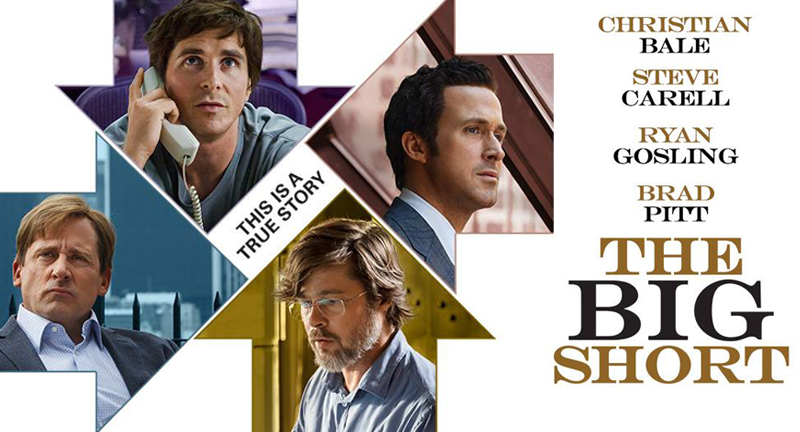 Naskah film ini ditulis oleh Adam McKay dan Charles Randolph berdasarkan buku The Big Short karya Michael Lewis dan kisah nyata tentang krisis keuangan 2007–2008 yang disebabkan oleh Housing Market Crash. Film ini dibintangi oleh Christian Bale, Steve Carell, Ryan Gosling dan Brad Pitt. The Big Short bercerita tentang sekelompok moneymen, yang memperkirakan runtuhnya kredit dan gelembung perumahan selama krisis keuangan 2008, dan menghasilkan jutaan dari krisis ekonomi global. Film ini menggambarkan dengan baik bagaimana jatuhnya pasar real estat terjadi , dan memberikan beberapa pelajaran yang berguna bagi orang-orang yang mungkin mencoba untuk mendapatkan keuntungan dari booming real estat di masa depan. Agen real estat yang mencoba belajar tentang bisnis harus melihat film ini untuk dapat membayangkan perspektif tentang booming dan gelembung real estat.
Memorable line dari film ini : "I have a feeling, in a few years people are going to be doing what they always do when the economy tanks. They will be blaming immigrants and poor people."
6. The Money Pit (1986)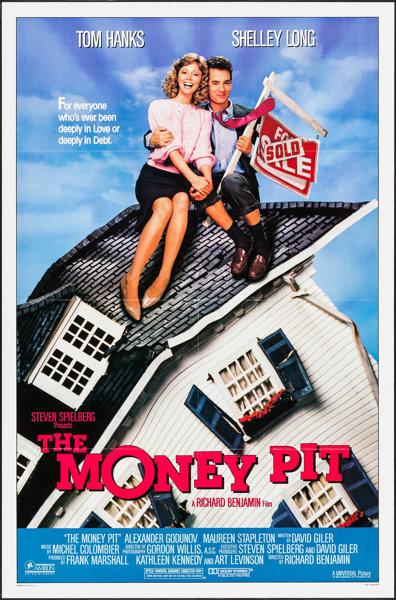 Film ini memang merupakan film terjadul diantara 6 daftar ini, namun jangan salah, film yang bengenre komedi ini benar - benar dapat membuat kamu tertawa terbahak - bahak. Film ini bercerita tentang pasangan muda yang pindah ke sebuah rumah besar yang terlihat sempurna hingga mereka membelinya dengan harga yang sangat murah, namun sesaat setelah mereka pindah kedalam rumah itu, rumah itu pun mulai runtuh perlahan - lahan. Agen real estat mungkin akan menerima sejumlah pelajaran dalam real estat yang diberikan film secara halus, seperti pentingnya mengecek permukaan tanah dimana rumah dibangun saat memutuskan kelayakan sebuah rumah. Pasangan ini mendapatkan banyak kekacauan karena mereka tergoda oleh janji rumah murah dan oleh cerita dramatis penjual, yang sering terjadi dalam kehidupan nyata.
Memorable line dari film ini : " "It doesn't make any sense, why would somebody be selling a million dollar house for a hundred thousand?"
Itu tadi dia 6 Rekomendasi Film Buat Menambah Ilmu Para Agen Properti yang telah kami rangkum mulai dari genre romantis maupun komedi . Jangan lupa ditonton dan jangan lupa comment film apalagi yang kira - kira bisa kita jadiin rekomendasi buat para agen properti supaya kita bisa makin nambah pengetahuan tentang properti.