Hidup Tanpa Uang, Politik, dan Agama di Kota Ini -
Mungkin banyak diantara kalian yang pernah dengar lagu dari John Lennon berjudul Imagine. Ya, sepenggal liriknya yang berbunyi "Imagine all the people... Living life in peace... You..." mungkin adalah sesuatu hal yang sulit dicapai. Melalui lagu ini, John Lennon memberikan gambaran bagaimana nyamanya kehidupan masyarakat tanpa negara, agama, politik, dan uang.
Mungkin terkesan hanyalah mimpi belaka, namun nyatanya di suatu daerah di India Selatan, tepatnya 150 km dari Madras, terdapat satu kota yang sesuai dengan isi lagu dari John Lennon tersebut.
Baca Juga :
---
Hidup Tanpa Uang, Politik, dan Agama di Kota Ini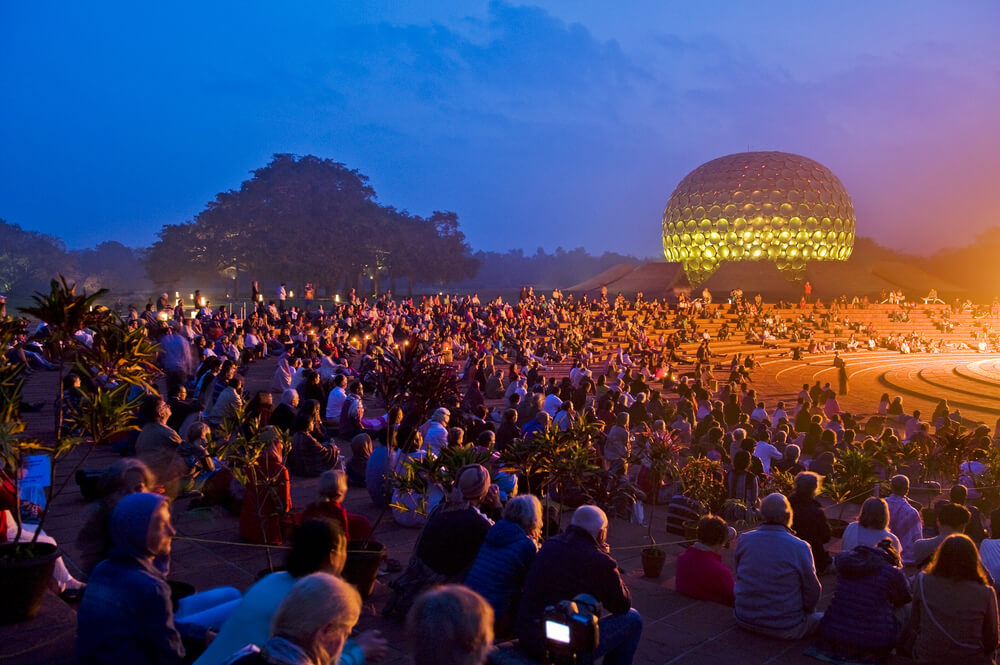 Dikenal dengan nama Auroville, kota ini bisa dikatakan sebagai surga dunia karena para penduduk yang tinggal di kota ini tidak perlu khawatir hidup tanpa uang, agama, ataupun khawatir akan politik karena di kota ini hal tersebut semua tidak berlaku.
Kota Auroville ini sendiri didirikan sejak tahun 1968. Uniknya adalah para penduduk di kota ini berasal dari lebih dari 50 suku bangsa yang berbeda. Hal ini jugalah yang membuat UNESCO memberikan perlindungan penuh terhadap kota ini dan menyebut ini sebagai kota internasional.
Meski berasal dari latar belakang yang berbeda-beda, para penduduk hidup saling berdampingan dan tidak memiliki masalah meskipun tanpa sistem politik, agama, dan uang. Arsitektur di wilayah ini juga dibangun berdasarkan teknologi terbaru dan terus berubah sesuai dengan perkembangan teknologi.
Bahkan seluruh bangunan yang ada di kota ini menggunakan energi terbaru dan dapat didaur ulang untuk digunakan kembali. Kota Auroville ini dirancang dan didirikan oleh Mirra Alfassa atau lebih dikenal dengan sebutan "Ibu" oleh penduduk setempat.
Menurut Mirra, "Di Bumi ini harus ada setidaknya sebuah tempat yang tidak bisa diklaim oleh negara manapun atau siapapun sebagai milik mereka. Tempat dimana semua manusia berkeinginan baik dan memiliki aspirasi tulus serta dapat hidup bebas sebagai warga dunia dan juga mematuhi satu otoritas tunggal yakni kebenaran tertinggi".
Kota Auroville juga merupakan sebuah tempat kerukunan, kedamaian dan harmoni merupakan tujuan utama para penduduk. Kota ini sendiri menerapkan model eco-city yang berkelanjutan. Didalamnya terdapat sistem multitanam untuk memenuhi kebutuhan seluruh penduduknya. Terdapat pohon buah-buahan, ladang dan kebun, serta 15 peternakan yang mencakup area sekitar 160 hektar.
Di akhir lagu Imagine dari John Lennon terdapat penggalan lirik "I hope someday you'll join us. And the world will live as one". Bagaimana? Apakah anda tertarik untuk hidup tanpa uang, politik, dan agama di kota ini suatu saat nanti?