Inilah Kantor Unik Amazon Yang Dipenuhi Tanaman dan Rumah Pohon
- Beberapa waktu lalu Amazon memperkenalkan markas baru mereka, The Spheres. Kantor baru tersebut dibangun sebagai salah satu investasi dari Amazon dan juga untuk memperluas area perkantoran mereka di Seattle, Amerika Serikat.
Total investasi dari Amazon untuk The Spheres adalah senilai USD 4 miliar atau setara dengan Rp 54,136 trilun.
Baca Juga :
---
Inilah Kantor Unik Amazon Yang Dipenuhi Tanaman dan Rumah Pohon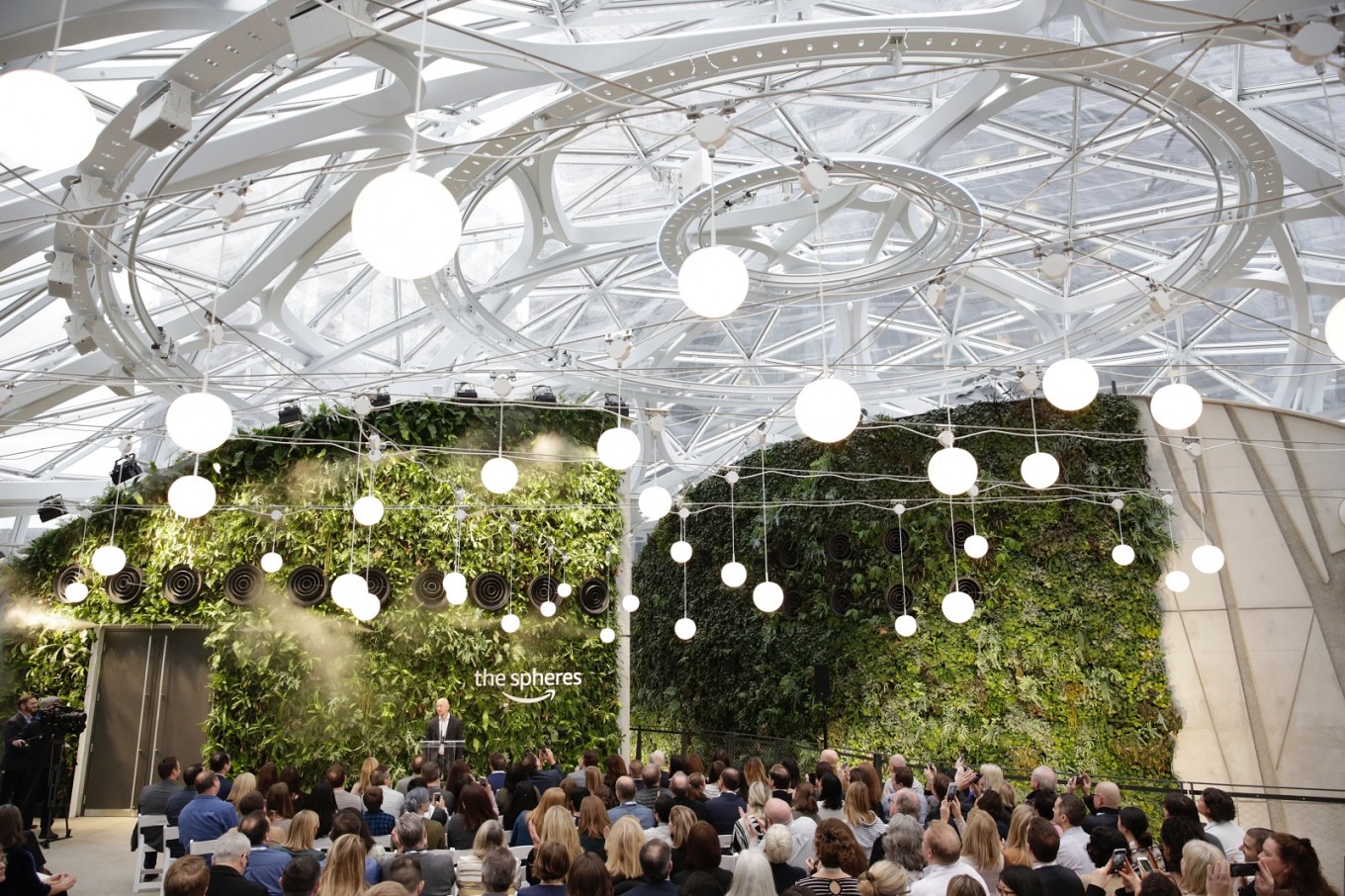 The Spheres sendiri terdiri dari tiga buah bangunan berbentuk bola raksasa yang terbuat dari kaca. Bagian terunik dari The Spheres selain bentuknya adalah didalamnya terdapat lebih dari 40.000 tanaman yang berasal dari seluruh dunia.
Pihak Amazon mengatakan bahwa dengan adanya kantor ini akan memberikan ruang bagi karyawannya. Selain itu, taman hutan ini juga dapat memberikan suasana baru yang lebih nyaman kepada karyawannya. Desain seperti ini juga bertujuan untuk menurunkan tingkat stres para karyawan dan juga meningkatkan kreatifitas karyawan.
The Spheres dirancang oleh tim arsitek NBBJ dan dikerjakan oleh 600 orang kreatif. 3 buah bangunan The Spheres juga saling berbagi area terbuka yang diisi oleh ribuan tanaman. Pemandangan ini bahkan bisa dilihat dari sudut pandang manapun. Keren bukan?
Di area terbuka ini terdapat lebih dari 300 spesies tanaman yang berasal dari 50 negara. Uniknya, masing-masing dari tanaman ini memiliki cerita menarik tersendiri. Didalam bangunan ini juga terdapat ruang rapat layaknya kantor pada umumnya.
Namun jika berbicara tentang kantor Amazon yang baru ini, tentu ada sesuatu yang unik dan beda dari ruang rapat didalamnya. Ya, ruang rapat di dalam The Spheres memiliki desain unik seperti rumah pohon, fitur sungai dan air terjun, bahkan terdapat dinding hidup yang bertingkat.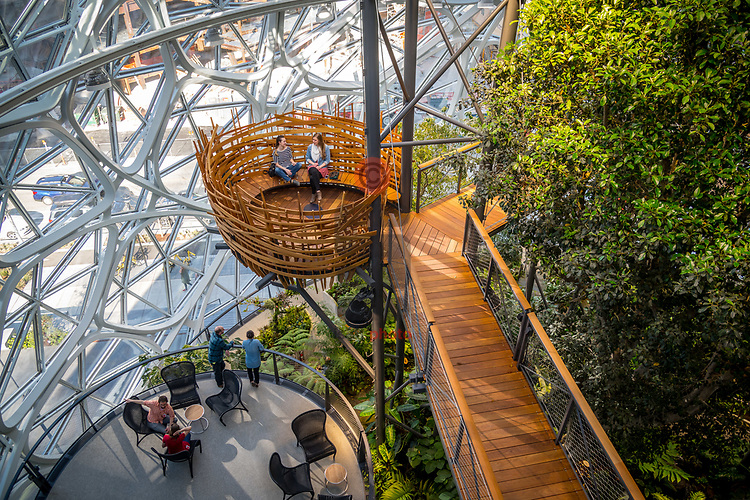 Jika dilihat dari dalam, bangunan The Spheres memiliki pola geometris yang terlihat sangat keren dan juga membuat siapapun didalamnya merasakan suasana alam yang sangat kental. Kaca dari bangunan ini juga dilengkapi dengan lapisan film didalamnya yang bertujuan untuk menangkal radiasi infra merah yang masuk dan menjaga suhu ruangan tetap dingin.
Itulah kantor unik Amazon yang dipenuhi tanaman dan rumah pohon. Keren bukan?